***So apparently I did this wrong and I wasn't necessarily supposed to BLOG about the question, just answer it in the comments section of Meg's blog. Oops. I'm a newb, please excuse me!***

I'm giving this "Mingle Monday" a whirl today. It seems to be a great way to discover new lovely blogs and get inspiration for posts.
Plus, I'm working from home this week, so why not?!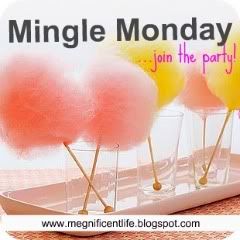 Today's Mingle Monday question: What was your favorite Christmas gift this year?
Well, seeing as how my parents gave me a fairly hefty sum for apartment start up costs in October, I didn't really ask for anything this year. But my lovely mom was kind enough to get me some magazine subscriptions I'd been wanting. I'm a magazine enthusiast, but have let my subscriptions go by the wayside due to lack of moneys. I shall now be filling my tiny mailbox with Vogue, National Geographic Traveler, Bon Apetit, and House Beautiful.
Basically, I'll be filling my head with beautiful images that will have me itching to travel and get away from real life.
What can I say, I'm a dreamer!